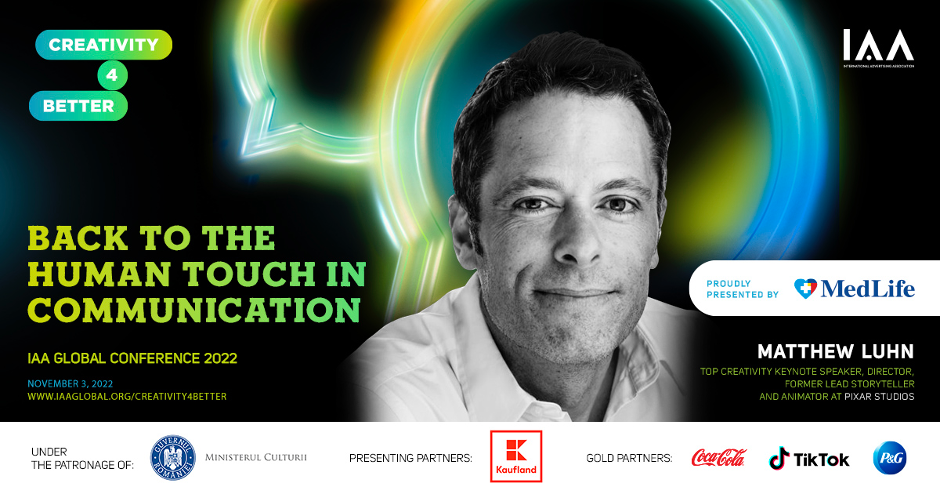 To all the MarCom enthusiasts, a round of applause for our first unveiled Star Speaker, Matthew Luhn, Former Lead Storyteller and Animator at Pixar Studios, proudly presented by Medlife!
IAA Global Conference "Creativity4Better" returns in-person, in Bucharest, on November 3rd, 2022 with a theme central to our present days: "Back To The Human Touch in Communication"!
One of the best storytellers in the world, Matthew Luhn is the Creativity4Better Star Speaker. Matthew, Director, Former Lead Storyteller and Animator at Pixar Studios, has a fabulous storytelling expertise. His credits include our childhood memories, like: Toy Story series, Monsters Inc., Finding Nemo, Cars, Ratatouille and other films currently in development.
With over 20 years of experience creating and developing dozens of films, TV shows, and video games, at Pixar, The Simpsons, ILM, and other studios, Matthew Luhn knows what it takes to create memorable stories with enduring characters, through creativity. A well created story will always be kept to the forefront of the mind, and a well-built character will always be that distinctive "voice" of the story, or the brand.
Matthew's area of expertise has broadened over the years, working with Fortune 500 companies, entrepreneurs, and other professionals. His experience in Storytelling has helped him bring the human touch into the business world, and drawing on that expertise, Matthew will show us how to build stronger brands with a good communication strategy, bridging the gap between the business and the heart.
In fact… what is a brand without a good story?
We invite you on November 3rd, at the IAA Global Conference, to personally enjoy listening to Matthew Luhn on our global stage.
This experience is possible with the involvement of MedLife:
"We believe that creative people are those who can make a change in the world. For this reason, we became a partner of the IAA Conference for a couple of years now, and we are very excited about this year's edition, where we will have the chance to meet Matthew Luhn and learn from his rich experience", said Mirela Dogaru, Commercial Director MedLife Group.
We would like to thank the Romanian Ministry of Culture and the partners of our event:
In addition, we are grateful to all our partners:
For more information, please visit www.iaaglobal.org/creativity4better